Til helgen blir det PRODA-klasser med Karin Munters Jameson!
Fredag 9.desember kl.18:00 – 19:30
Lørdag 10.desember kl.10:00 – 11:30
Søndag 11.desember kl.11:00 – 12:30
Sted: Speilet, TOU
VELKOMMEN!
Om pedagogen: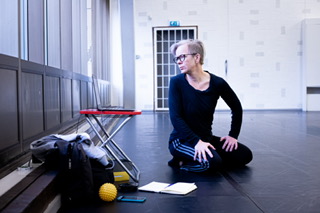 Karin Munters Jameson was a member of the first Teacher Certification Program in KleinTechniqueTM and became a Certified Teacher of Klein TechniqueTM in 2000. Today Karin has a position as an assistant professor in dance at SKH/ID, Stockholm, Sweden where she teaches Klein TechniqueTM as well as contemporary dance and movement analyses. She is a returning guest artist and coach at TeaK/ Helsinki, Ballet de Lorraine/ Nancy, IAA/Reykjavik, Balett Akademien/Göteborg Cullberg/ Stockholm, Danscentrum/ Stockholm, Danslinjen Kävesta and many other places around Sweden and Europe.
Karin Munters Jameson was born and educated in Sweden where she was awarded a Bachelor of Fine Arts in 1984, from Danshögskolan (today SKH). She furthered her studies in New York at the Cunningham Dance Foundation, at Movement Research, with Karen Levey, Emmy Devine, Douglas Dunn, Dan Wagoner and Irene Hultman among others and since 1993 with Barbara Mahler and Susan Klein.
As a dancer Karin has worked with a number of different Swedish choreographers. Her own choreography has been presented at different venues in Stockholm. Karin also worked, for many years, on movement analysis studies together with the Swedish sculptor, Liss Eriksson, resulting in 6 bronze statues.
In 2000 Karin started her own production company, Back to the Bones Produktion, as a platform for freelancing in teaching, coaching, her body therapy practice and different artistic collaborations.
Om klassene:         
Klein Technique™  is a bodywork, in constant shift between practice and theory, that works on the level of the bone. 
The alignment of the bones, the work of the deep muscles of postural support and the deep muscles in the pelvis are the focus areas of the work and the practice. We study and re-study the musculoskeletal system and its functions. 
To achieve a deeper understanding of the musculoskeletal system and its function, we work with the physical concepts of weight, spatiality and gravity and how they are linked to the mechanics of the body, as well as to the structure of the bones.
In class we get to concentrate on ourselves as anatomical beings on a deeper level and make room for this in our daily lives as dancers and movers. 
By doing so, we also dedicate ourselves to sharing the room in time and space with others, sharing this bodywork, knowledge, practice and experience of re-educating ourselves. Together we create a space of concentration and respect, for the body, for the work, for each other and ourselves. 
Photo 1: Jasmine Attié                                                                                                                                              Photo 2: Ronan Muller